Meet Upholsteress Cristen Sousa
We are very excited to welcome Cristen Sousa to our blog today. I met Cristen last year through a synchronistic set of circumstances and we collaborated on a project for Made on 23rd's first product launch. I am thrilled to see her pursuing her passion and continuing the tradition and much needed craft of upholstery.
Words from Cristen...
Like many creatives, I grew up in a supportive family who loved seeing me create.
My great-grandmother was a beautiful seamstress, the hostess with the most-est and could make nearly anything she set her mind to. Both of my grandmothers, Uda and Bette, were also seamstresses and loved embroidery. My mom Melinda was a rug hooker. She dyed her own wool and surrounded my sister and I with burlap, wool, and moth balls. The men in my family were all handymen, so naturally they wanted us to be well rounded young women. We helped with home improvements and renovations projects. I helped my grandfather lay brick on their front porch and helped re-tile my parents bathroom....all before the age 7. My family taught me resourcefulness and to never give up.
As a little girl saturated with this, I was enamored by the process of how things were built. I learned at a very young age to use a good tool, rather, the best tool for the job. I loved seeing my mom restore antiques, and decorate our home. Especially, the furniture. I don't know what it is, but I often joke that the typical "woman's thing" is shoes, or purses...my "thing" just so happens to be tattered, worn and often broken antique furniture. I currently have 65 (and counting) pieces of furniture to sit on in my home, but I'll get to that soon..
I owe my artistic history and support to my family, and I owe so much of the maker I have become to San Francisco. I truly found, what feels like every part of myself there.
I recognized that the tech industry was booming and that I knew I was destined to work for a design agency in the city. Which I did...But it wasn't until I was actually there, and not at art school anymore, that I realized I missed physically creating something. I missed using both my brain and hands to construct something tangible. While working at the angency, I also interned at the Center for the Book in San Francisco where I learned letterpress printing. I walked everywhere, and soaked up the architecture, the people, the city's heartbeat.
In between all of this, I went to antique stores to pick up silly doodads, but to also admire the furniture for sale. I lived and worked in quite a few different neighborhoods in the city, but they all had something in common. People would leave their trash, mattresses and even furniture out on the street for either the garbage trucks to pick up or a lucky duck with enough room in their apartment to fit or the means to haul a beautiful waterfalled sideboard up Hyde street. I would think to myself, how amazing it would be to have the skill to completely remove the material from a beautifully channeled Victorian chair that was laying on its side next to a dumpster. But then I also thought how intimidating that process was...but if I had the space...and the right tools...
That's when I moved to the Pacific Northwest. My partner in crime, Sean whisked me up North to start a life and grow where we couldn't in the Bay Area.
I frantically searched for a job in Vancouver and Portland sending my portfolio in every direction.
While I waited for a job offer, I found myself in the basement of Devine Consign on Main Street in Vancouver, and I discovered Eliud Grijalva.
The cluttered basement was full of broken furniture, sewing machines, foam, and fabric. I saw Eliud lifting a huge, half torn apart, sofa all by himself. I was visually salivating - if that makes any sense? I wanted my hands on the fabric and the scissors and to learn this trade. Long story short, I did just that. I chatted his ear off for a good hour, and he told me to talk to the woman upstairs to start apprenticing. The only requirement was for me to know how to use an industrial sewing machine, and power tools. Thanks to the men and women in my family, I could check both of those boxes. And so I started an upholstery apprenticeship.
Eliud had me rip apart furniture to see how it was constructed. He showed me how to reconstruct each part and let me follow his lead. If I messed up he told me to keep going.
It was the most satisfying work I had done, honestly, ever.
The upholstery process is my favorite thus far. It's so methodical. The details that go behind each and every tack are rewarding. Planning is a critical part of my process. I don't just jump right in and tear the thing to pieces. I take some basic measurements, figure out yardage and strategize how to cut the fabric. The cut has to be just right to make sure I'm not wasting material.
Once I know the plan of attack, I put on a pair of heavy duty gloves, a face mask, and dive in, vacuum & wood glue in toe. This is a process I never rush. It's a craft that requires patience and resourcefulness and I love every minute of it. The whole process from tear-down to finish can take up to 2 months.
Devine Consign no longer has an upholstery service so I continued upholstery on my own in my basement. Recently, I've been very busy with a lot of classic car interiors.
When Cristen is not upholstering she is thinking about crocheting, screen-printing, embroidery, painting, gardening, learning, collecting old furniture at estate sales or flea markets, picnicking, driving in the roadster, and coffee.
Wheew! She is a very busy young women!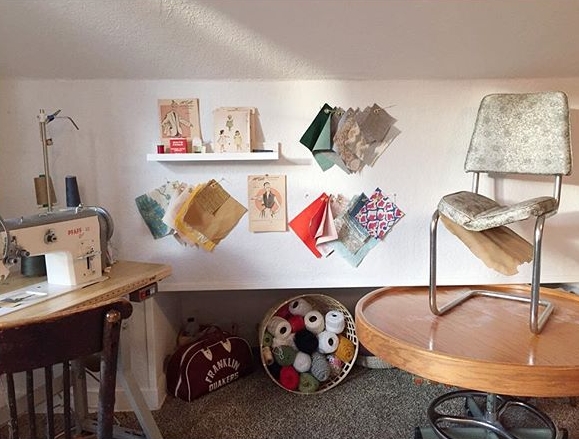 Cristen is currently searching for a store front to lease so she will have more space to work and a place for clients to visit. Stay tuned for the announcement of her new location!
You can find Cristen at swedes-den.com and @swedes-den.